Life Saving Moment: CPR In Action at BFL Apartments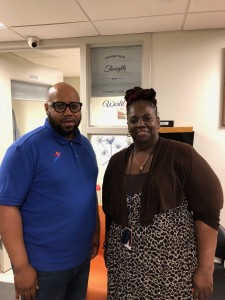 Barrier Free Living apartment team members Irma Williams, Director of Social Services, and Jeffrey Hampton, Resident Aide Manager, put their recent CPR* training to the test in an emergency situation this summer, saving the life of a resident at the supportive housing program.
After a tenant reported an unresponsive family member in their home, Irma and Jeffrey  rushed to the scene, called 911 then checked the person's breathing.  Jeffrey, who had completed his agency CPR re-certification just two weeks prior to the incident, administered chest compression when he realized the person had stopped breathing.
"Staff training is an integral part of the professional development and the support that we provide to the people we serve. This situation highlights the fact that taking time to properly train staff to be equipped to handle situations like this is well worth it," says Cynthia Amodeo, Chief Program Officer.
The resident in danger received medical attention and is doing well.
*Cardiopulmonary resuscitation (CPR) is an emergency procedure that combines chest compressions often with artificial ventilation in an effort to manually preserve intact brain function until further measures are taken to restore spontaneous blood circulation and breathing in a person who is in cardiac arrest.