Los Miembros del Equipo de BFL se Involucran con la Educación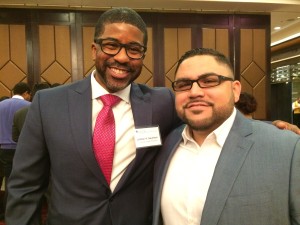 Team members at two Barrier Free Living programs are adding educational related activities to their agendas this winter.
LeShan Gaulman, program director at the agency's Transitional Housing program for formerly homeless people with disabilities, has begun teaching Introduction to Social Work at Lehman College.
"It has always been my desire to teach on a collegiate level, it was all part of my career path, " says LeShan. "Time management will be an important factor in this process. I know that it will be a juggle, but I'm a juggler, so it will all get done."
Linette Holmes, Resident Aide Manager at the agency's Freedom House domestic violence shelter started as a freshman this January at Metropolitan College.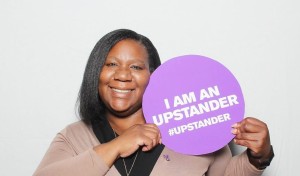 "I'm studying to get an Associates Degree in Human Services. I chose to go back to school because I wanted a degree to go with the almost 7 years of experience that I have working here and to make myself more marketable.," says Linette. "BFL is growing bigger and bigger and I hope to grow with it. I did a lot of research when making my decision to go to college. I found a school that works with my schedule and I have an amazing supervisor (Myra Ricard) who is supportive of my endeavors. In managing school and a very demanding job, I will take it one day at a time, ask for support when I need it, and my Google Calendar will be my best friend!"
Los miembros de equipo de dos programas de Barrier Free Living están agregando actividades relacionadas con la educación a su agenda este invierno.
LeShan Gaulman, director de programa en el programa  de la agencia Vivienda de Transición para ancianos con discapacidades, ha comenzado a enseñar la Introducción al Trabajo Social en Lehman College.
"Siempre ha sido mi deseo de enseñar en un nivel universitario, todo fue parte de mi carrera", dice LeShan. "La gestión del tiempo será un factor importante en este proceso. Sé que va a ser un malabarismo, pero yo soy un malabarista, así que todo se llevará a cabo. "
Linette Holmes, Gerente de Ayudantes de Residencia en el refugio de violencia doméstica Freedom House de la agencia comenzó como estudiante de primer año  en el Metropolitan College este mes de enero.
"Estoy estudiando para obtener un Grado de Asociados en Servicios Humanos. Elegí volver a la escuela porque quería un título para combinarlo con los casi 7 años de experiencia que tengo trabajando aquí y para hacerme más comercializable", dice Linette. "BFL está creciendo más y más y espero crecer con él. Hice un montón de investigación al tomar mi decisión de ir a la universidad. He encontrado una escuela que funcciona con mi horario y tengo un supervisor maravilloso (Myra Ricard) que apoya mis esfuerzos. En el manejo de la escuela y de un trabajo muy exigente, voy a tomarlo  día por día, pedir apoyo cuando lo necesito, y mi calendario de Google será mi mejor amigo! "