Marine Alex Minsky Inspires People With Disabilities On NBC News Story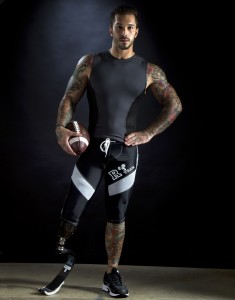 When Marine Lance Cpl. Alex Minsky (pictured) lost his leg when his truck rolled over an IED (improvised explosive device) in Afghanistan he had no idea how greatly his journey would end up empowering people with disabilities.
View the latest NBC News story, click here.
LA based photographer Tom Cullis first noticed Alex at his gym.
"I saw him on a daily basis doing pushups with one leg or core balance routines on a Swiss ball," said Cullis.
Cullis was on the hunt for a model for a Ruskin Athletic gear shoot, and the creator Hubert Pouches had told Cullis he wanted imagery that revealed "the reality of life and…beauty in someone who struggles to live each day as inspiration and appreciation for life."
Cullis saw this in Alex.
He learned that following the accident, Alex had been in a coma for several months and lost his leg, severe disfigurement of his right arm and a head injury which resulted in severe visual deficits.
"Alex and his determination to put all of us to shame at the gym was an immediate source of inspiration," said Cullis who signed Alex on for the shoot.
The Ruskin shoot drew immediate support from the press and like Olympic/Paralympic athlete Oscar Pistorius inspired countless people with disabilities to reach higher to lead rich,  dignified lives.
"When Alex's images were picked up by DNA and a variety of blogs it was a rush to receive an outpouring of support, admiration and appreciation for such a sacrifice he had made for his country," said Cullis, who plans a follow up project with the marine turned model.