Music and Mission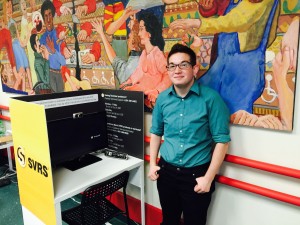 When he's not exploring benefit and housing opportunities for Deaf /Hard of Hearing survivors of domestic violence, Secret Garden Case Manager is likely jamming on his sax
Attracted to Barrier Free Living's mission, in particular the agency's powerful work with Deaf and Hard of Hearing survivors, Caelan joined the team this past year and hit the ground running. He took time out to answer a few questions about his first few months at Secret Garden
What drew you to the agency?
I found out about Barrier Free Living while searching for services for the Deaf and Hard of Hearing. I read up on BFL and decided that I really liked what it stood for and the work that you do. There are not a lot of facilities that provide care to DV survivors who are Deaf/Hard of Hearing, so I knew it was something I wanted to be involved with even if it was as a volunteer.
Where are you from originally?
I am not a native New Yorker. I was born and raised in Vermont and then moved upstate to Hurley, NY when I was 11. I came to NYC for educational opportunities. I'm studying to become an interpreter, and upstate doesn't have the kind of programs NYC has.
What are the key issues facing survivors of domestic violence with disabilities today and how can we at BFL change or support that?
It is hard to answer this question. People in domestic violence situations already face a large amount of problems, but when disabilities are brought into play it's a whole different situation. I think part of the issue is that there is not enough awareness of domestic violence survivors who have disabilities. We are often led to believe that domestic violence only happens to a specific group of people, and because of that the proper services are not in place for those who do not fit into that given group. Bringing awareness to the variety of people who can experience DV (which is everyone) can lead to better services, and solving the bigger issues more efficiently. BFL does a great job already because they are very knowledgeable about disabilities and domestic violence. This being said, there is always more that can be done, and I think it starts with awareness.
 What do you do in your free time?
I'm a musician. I currently play music as a saxophone accompaniment (he works with musician Luis Mojica).I also play several other instruments. I really like being outside and working outdoors.
Where is the most interesting place you have traveled to?
I haven't really gone anywhere outside of the North Eastern United States. I find some of the greatest places are the ones you find on your own. In the case of my upstate travels, my friends and I once found a pond in the mountains called Duck Pond. We had to walk through the forest to get there for a long time. We passed a lot of barns and fields and eventually came to this pretty secluded area. Oddly, there were no ducks in the pond, but there was a large turtle that would stick his head out and blow bubbles at us from time to time.
Save
Save