National Crime Victims' Rights Week April 24 – 30 Events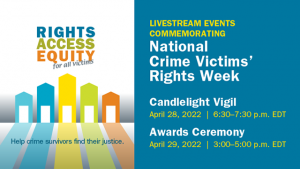 In observance of National Crime Victims' Rights Week (April 24 – 30, 2022) the U.S. Department of Justice, Office for Victims of Crime is raising awareness of victims' rights and services, highlighting programs, celebrating progress achieved, and honoring victims and the professionals who serve them.  This year's theme is rights, access, equity, for all victims.  The theme underscores the importance of helping crime survivors find their justice by –
·       Enforcing victims' rights,
·       Expanding access to services, and
·       Ensuring equity and inclusion for all.
Barrier Free Living's 40-year history embodies this year's theme by advocating for effective systematic change and providing accessible services to underserved populations.  This is seen our daily work supporting families and individuals with disabilities and those who are D/deaf by offering:
* access to safe shelter when lives are in danger
* counseling domestic violence and sexual assault survivors to obtain much needed mental health care and case management in their times of need, and
* support to people in recognizing that they are worthy of living in a safe home where they can thrive.
Barrier Free Living invites you to join the NCVRW Candlelight Ceremony on Thursday, April 28th from 6:30pm – 7:45pm and/or the National Crime Victims' Service Awards Ceremony on Friday, April 29th at 3:00pm by LIVESTREAM
(Live Streaming opens 10 minutes in advance of both events).