New Museum's Jane Hsu Creates Art Workshop at Freedom House Shelter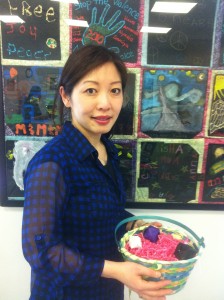 An educator in professional development and community outreach at the New Museum in NYC,   Jane Hsu has created a dynamic new art workshop for the residents of Freedom House Emergency Shelter, with a possible art show in the works.
Jane shares how she got involved at the domestic violence program, and her plans for the group.
How did you learn about Freedom House, and what drew you to volunteer and facilitate the art project?
I met Cynthia Amodeo,  Director of Family Services at Freedom House through a personal friend.  In our conversation, I expressed my interest in starting an arts workshop/art therapy on a weekly basis. I feel that the act of creating fine art and crafts can be very therapeutic, and an art show that we plan to hold in the future will allow everyone to participate in an organized event.
How do you see the art group helping the residents, what have you experienced thus far?
Many volunteers come through seasonally, and I wanted the residents to expect something on a weekly basis as part of their stay.  At first, at the end of each session, they would repeatedly ask me if they would see me again, or when the next class would be held.  I've been very happy to provide a regularly occurring art event that the residents can easily participate in.  I am also familiar with the many phases of healing that they are going through, not necessarily as a health professional but as someone who was in the same position they are in.   I am also a survivor of domestic violence, and I wish I knew about Freedom House several years ago when I needed the help.  As much as therapy and group therapy are useful, it is also nice to have activities usually supported in their daily lives. Occupational Therapy department activities such as cooking and art provide residents with a comfort and familiarity during this difficult time when everything else is up in the air.
Anything planned for the summer with the art group, an event or show?  
We have had weekly meetings for the art project since December, and we have had a regular following.  It has been wonderful to see residents through their time, and greet newcomers to the group.  Now that we are more established as a regular weekly group, I would love to set up an exhibition for this summer, where residents can provide the artwork and help with the management of the actual event  It would be great for them to see their art work celebrated, and to look at work made by others that can be very inspiring.
About Jane:
JANE V HSU 徐蓁 is a Chinese-American independent curator and writer of Chinese documentary films and performance.  She is on the jury for the Beijing Independent Film Festival, and curates selections from the festival to be archived and preserved at the East Asian C.V. Starr Library at Columbia University.  Her work focuses sociological issues facing China today on sexuality, HIV/AIDS awareness, and violence.  She is the produced of the series, "Banned in China:  The Post-Olympic moment in Chinese Independent Film at School of Visual Arts and is producing a documentary series on Netflix, "Polyamory," on a polyamorous lesbian group based in China.  Currently curatorial projects include an exhibition of violence and performance and a film/discussion series on Chinese scholars who make documentaries on pleasure and gender and publishing a comprehensive catalog of post-2000 Chinese independent documentaries in collaboration with the Starr Library.