NYC High School Denim Day Fashion Show Benefits Barrier Free Living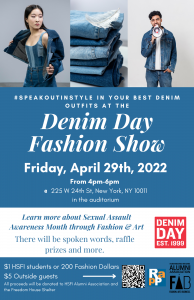 New York City's High School of Fashion Industries is holding a Denim Day Fashion Show on April 29th from 4-6pm with a portion of proceeds going to support Barrier Free Living's work with survivors of domestic violence with disabilities.
"We are honored and grateful to be part of this amazing and creative event raising awareness about Denim Day during April's Sexual Assault Awareness month," says Scott Hess, Director of Communications at Barrier Free Living.
The event will be held at 225 W 24th St, New York, NY and tickets are available.  Proceeds benefit the HSFI student scholarship fund as well as Barrier Free Living.
Denim Day is a National campaign to raise awareness about sexual assault. The RAPP (Relationship Abuse Prevention Program) at the High School of Fashion Industries (HSFI) has worked closely with the Fashion and Marketing students to learn about relationship abuse and sexual violence. The students worked to put on an amazing show through fashion, spoken word, dance and more for change.