October Domestic Violence Awareness Month Wear Purple Day Oct. 19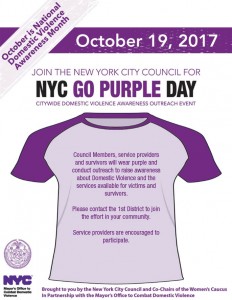 October is Domestic Violence Awareness Month.
Every year the Mayor's Office to Combat Domestic Violence partners with NYC City Council to raise awareness about services and resources for victims and survivors of intimate partner violence on NYC GO Purple Day. This year's statewide "Wear Purple Day" is Thursday, October 19.
If you want to volunteer please contact the first district to join the effort in your community. Volunteers will:
· Hand out outreach materials with city council members and/or their staff for two hours during the morning rush (7-9am).
· Wear purple and chat with commuters about services and resources from the NYC Family Justice Centers and our wonderful community based organization partner agencies.
.