Pay It Forward
As proud as she is of her own journey working with our Secret Garden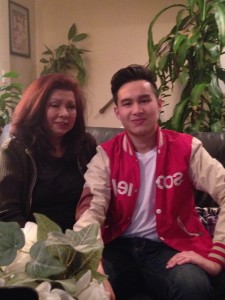 domestic violence program, Zenaida T. speaks most passionately about the impact her freedom from abuse has had on her children.
After years of domestic violence that "felt like a strait jacket that was never removed" Zenaida found safety, counseling and healing at Secret Garden. As she reclaimed her own life and dignity, she began to see the changes in her children.
"I am beyond ecstatic. I am now celebrating the woman I truly am," says Zenaida. "I thank Barrier Free Living for all they have done so that I can be whole. I was able to extend the benefits and lessons to my children who were so deeply affected by the violence in our home."
Zenaida's son, Luke shares his journey of hope as part of the 2015 "Team Oscar Submission" competition for aspiring young film makers.
Filled with hope and a desire to help other survivors, Zenaida is now part of Barrier Free Living's Speakers Bureau which provides training and encouragement to disabled Survivors of Domestic Violence. The Speakers Bureau was founded in May 2012 by Theresa A.H. Macintosh.
"I would not be where I am today without the very caring and heartfelt support of my counselor at Barrier Free Living," says Zenaida.
Save