Pink Shines Light On Accessibility At Grammys While Kesha Creates Powerhouse Moment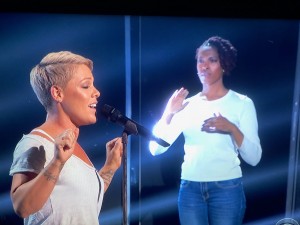 Pink's moving performance of her song "Wild Hearts Can't Be Broken" at the Grammy's this month featured an American Sign Language interpreter delivering the lyrics. Pink was the only performer to do this during the show.
The choice was a step toward having those in the deaf and hard of hearing community be a part of understanding each important line from the song.
Later in the show, singer Kesha performed "Praying" and her  triumphant ballad took on new meaning in light of the #MeToo movement. Cyndi Lauper, Camila Cabello, Andra Day, Julia Michaels and Bebe Rexha and the Resistance Revival Chorus joined her onstage, dressed in all white. Kesha's legal battle with her producer was one of the a big industry story in the past few years.