Poet/Educator Cathryn Ana Glenday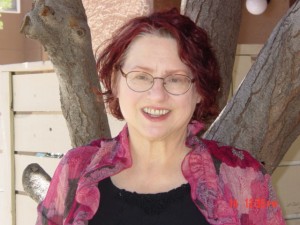 Cathryn Ana Glenday, MPH, MA, LMHC, is a psychotherapist and health educator focusing on disability mental health in Albuquerque.
She has  been writing poetry since grade school. She is also working on a memoir about her own life and the lives of other disabled women she has  encountered as a medical student and grad student in clinical psychology. She shares a poem, below.
Desert Fortress
High above Albuquerque, behind the barbed wire fence,
The isolated desert sky bleak,
Reflecting our aloneness.
Women huddle for safety,
With hearts broken and noisy stressed kids,
Runny noses and cartoons everywhere.
Our promise of intimacy and connection gone.
Replaced by fists and stalking.
Now we hide.
Staff lock us away, search our belongings, test our fluids,
Like the runny nosed children some see us as being,
Because we dared trust and were hurt for it.
Locked doors, protocols, room searches,
Alarms on the doors to keep us in as well as them out.
What price safety?
Infantilism, intrusion, and even more violation.
When will society stop infringing on women,
Deciding what is best for us,
Rather than simply giving us sanctuary,
A safe place to heal unmolested,
While we lick our wounds and begin again.
© 2015 MC Glenday
Cathryn has a BA from UCSD, an MPH from UTSPH in Houston and an MA from the California Institute of Integral Studies where she trained as a feminist focused Jungian therapist. She  currently working at the NM VA HCS as a PTSD study coordinator (CSP 591)  and at the SW Family Guidance Center and Institute as a therapist. She has a strong interests in the arts as a means of healing. She is a below the knee amputee and a disability activist.