Red Eye Visits Barrier Free Living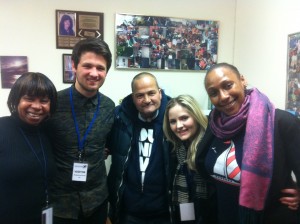 Jeremy Reitmaier and Amber Brust of Red Eye visited Barrier Free Living's Transitional Housing program this week, a first step for BFL towards its plans for an agency fund raiser.
The visit included a tour of the program, which offers safe shelter and case management for people with disabilities, as well as a meeting with Transitional Housing resident Gabriel Gonzalez. Gonzalez recently secured permanent housing with the help of BFL housing team members Tiffany Williams and Evelyn Williams. Jeremy and Amber are working with the agency's newly formed Development Committee, headed by Organizational Development Manager Scott Hess.
"We are thrilled to have the amazing energy and support of Red Eye as we plan our first official fund raiser," said Hess.
Pictured, from left: Evelyn Williams, Jeremy Reitmaier, Gabriel Gonzalez, Amber Brust, Tiffany Williams.