REELABILITIES FILM FEST OPENING NIGHT AT QUEENS DRIVE-IN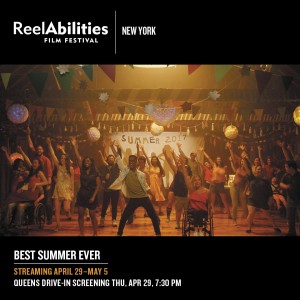 Who doesn't love a drive-in movie! The ReelAbilities Film Festival kicks off the 2021 Festival with a showing of Best Summer Ever at the Queens Drive-In.
Barrier Free Living is a participating partner of the Festival.
Founded in 2007 by the Marlene Meyerson JCC Manhattan, ReelAbilities Film Festival: New York is the largest festival in the country dedicated to promoting awareness and appreciation of the lives, stories and artistic expressions of people with disabilities.
See the full film fest schedule for all the details of this cutting edge festival.
Opening Night:
THU, APR 29, 2021 | 7:30 PM | QUEENS DRIVE-IN AT THE NEW YORK HALL OF SCIENCE
Best Summer Ever
Dir. Michael Parks Randa & Lauren Smitelli
2020 | US | 80 mins.
A first-of-its-kind musical featuring a fully integrated cast and crew of disabled and non-disabled people. Sage (Shannon DeVido) and Anthony (Rickey Wilson Jr.) had the best summer ever falling in love at camp. When fate brings them back together, they must face the drama of cliques, an evil cheerleader, and Sage's family secret.
6:30 PM: Doors open & pre-show
7:30 PM: Opening Night Remarks featuring Itzhak Perlman, a performance from Lachi, and more
8:15 PM: Film Begins, followed by a Q+A
GENERAL ADMISSION drive-in tickets.
For questions regarding accessibility, please contact [email protected] If you would like to request ADA seating or ASL interpretations at the Drive-in please contact [email protected] before the event.