Ribbon Cutting For Kids Playground Mural At BFL Apartments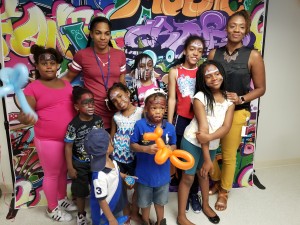 Foxy Management and Barrier Free Living held a ribbon cutting event unveiling the new mural in the kid's playground at BFL Apartments in the Bronx.
The mural, created with the support of 501 See Streets and the talents of famed graffiti artists Crash and Bio, added color and joy to the playground. The outdoor space is connected to the supportive housing complex's child care area.
BFL Apartments offers permanent homes to survivors of domestic violence with disabilities, and their families, including 91 kids.
The event included face painting, a clown, a magic show and food for attendees.
View the short film about the making of the mural here.