Riverdale Country School Kids Deliver Halloween Joy to Barrier Free Living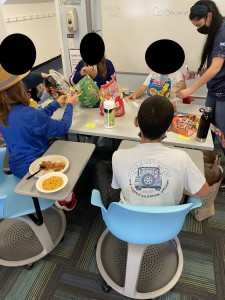 Students preparing Halloween goodies. 
This October, a group of students at Riverdale Country School decided they wanted to share their Halloween joy.
The kids, ages 11-13, discovered Barrier Free Living's programs for survivors of domestic violence with disabilities. They were particularly drawn to the fact that over a hundred children live at the agency's shelter and supportive housing program.
The students organized a drive, under the guidance of Nelson Arroyo (English Department, MS Community of Learning Coordinator) which culminated October 26 in the delivery of 85 candy bags, 63 costumes, and "assorted goodies like bubbles, slime, and some decorations," says Nelson.
Kids at Barrier Free Living's Freedom House shelter and the agency's supportive housing program in the Bronx are planning a "virtual" visit with the Riverdale students prior to Halloween.
"What inspired us to help out is our understanding of our own privileges and how we need to use those privileges to enact more empathy in the world," says Nelson. "All the members of Change Agents are 11-13 years of age so their primary focus has always been on helping other children because they realize that the world is unfair but if we stand on the sidelines doing nothing then we are contributing to the problem."