RPG Volunteers Create Bold New Play Area At Freedom House Shelter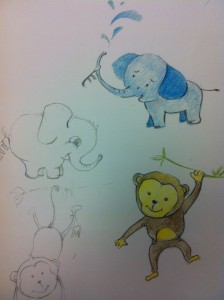 Volunteers from Manhattan's RPG firm will transform the Freedom House Emergency Shelter child care area into a joyful jungle this fall.
Lead by Ellen L. Friedman, Executive Vice President at RPG (Ellen is a member of AWARE which took on Freedom House last year as a partner program) the volunteers are planning a dynamic new paint design of the space (image above) which serves 54 kids.
"The children we work with have witnessed terrible violence and often have difficulty separating from their parents," said Nicole Lesser, Program Director at Freedom House.  "The designs are really going to transform the room into a place where children can feel cared for and safe.  We are so excited to be collaborating with RPG in this way."
RPG (formerly the Royal Promotion Group) was founded by Bruce E. Teitelbaum in New York City in 1991. His vision was to approach point-of-purchase displays in a new, innovative way. His philosophy has always been that a well-designed display does not mean an expensive price tag.