September Is Deaf Awareness Month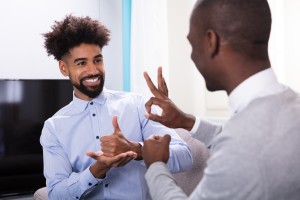 Deaf Awareness Month began in September 1958 as International Week of the Deaf, in commemoration of the first World Congress of the World Federation of the Deaf.
Barrier Free Living (BFL) has a long history of working with Deaf and hard-of-hearing clients and residents at our three domestic violence programs (Secret Garden, Freedom House, BFL Apartments).
For many years, Freedom House had hearing social workers and case managers fluent in American Sign Language working with our deaf residents. As a hearing social worker I have always believed it is important to have Deaf and hard-of-hearing team members at our programs.
After convening a focus group with current and former Deaf and hard-of-hearing residents to assess their needs, Barrier Free Living applied for and received a grant to hire a Deaf social worker and case manager (read more about that initiative here).
Earlier this year, these staff members (Barrier Free Living's Deaf Services Team) joined our existing Deaf social worker at Secret Garden to work with Deaf and hard-of-hearing clients and residents and to conduct outreach to the hearing and Deaf communities.
Increasing the number of Deaf staff is only the beginning of Barrier Free Living's efforts to improve its competency in working with members of the Deaf community.
In September, the interpreting agency All Hands in Motion began providing ASL (American Sign Language) 101 classes to Freedom House staff. For six weeks, staff in all departments – including maintenance, child care, social work, and resident aides – learn basic signs so they can better communicate with Deaf and hard-of-hearing residents.
At the first session, staff learned how to finger-spell their names, count to 10 and sign colors. Barrier Free Living's Secret Garden staff will participate in the next round of ASL 101 classes. BFL plans to offer intermediate and advanced classes for staff who would like to further develop their ASL skills.
Barrier Free Living has also spent several months training staff on Deaf culture and domestic violence.
Deaf survivors face unique barriers in escaping domestic violence situations, such as difficulty communicating with hearing police officers and advocates. (Barrier Free Living Deaf Services team member Nicolyn Plummer's upcoming article in October will cover this in-depth.)
It is best practice to provide interpreters for Deaf survivors, but hearing providers sometimes inappropriately rely on hearing children to interpret or they rely on written communication. There is a long history of Deaf people being discriminated against and seen as less intelligent or capable than hearing individuals, which can lead Deaf survivors to distrust hearing service providers.
On the other hand, Deaf survivors sometimes value the knowledge and opinions of hearing individuals, including abusers, their own children and service providers, more than they value their own.
As a hearing staff member, I have learned how important it is to communicate with Deaf and hard-of-hearing individuals in a culturally appropriate way, including using ASL instead of written English and speaking directly to the Deaf survivor instead of the interpreter.
I have also become aware of the long history of discrimination Deaf individuals face and why it is so critical that service providers, especially those of us who are hearing, empower Deaf survivors to tell their own stories.
Barrier Free Living is committed to a "barrier free world… free from abuse and bias". Becoming more culturally competent about the reality of Deaf experiences and enabling Deaf survivors to better communicate with hearing providers is a key component of this vision. Deaf Awareness Month is a great time to start learning ASL and getting informed about the uniqueness of Deaf culture.
Contributor Sara Eldridge, LMSW, is the Assisstant Director of Social Services at Barrier Free Living's Freedom House domestic violence shelter.  Sara is a licensed social worker who received a Master's Degree in Social Work from Silberman School of Social Work at Hunter College in 2015.  Sara has been a social worker at Freedom House since 2015, where she provides individual and group counseling to adults, children and adolescents. Prior to Freedom House she worked with youth in alternatives to detention and incarceration programs, student veterans and crime victims.