Sorenson Launches Videophone Communication Booth At BFL's Secret Garden For Deaf/HOH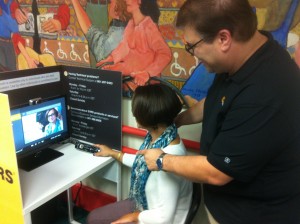 Sorenson Communication launched a new Videophone Communication booth for Deaf/HOH participants at Barrier Free Living's Secret Garden Domestic Violence program in October.
Sorenson's mission is to "empower the deaf and hard-of-hearing community to communicate with both deaf and hearing family, friends or business contacts using video relay service." Nicolyn Plummer, Secret Garden Social Worker, Services for the Deaf, organized the event, attended by staff and participants of the program.
Pictured at the videophone booth are (left to right) Michelle Reyes, Social Worker, Secret Garden; Jody Kulchinsky, District Manager Sorenson Communication.