Spread The Sparkle Fund Raiser Benefits Barrier Free Living Domestic Violence Programs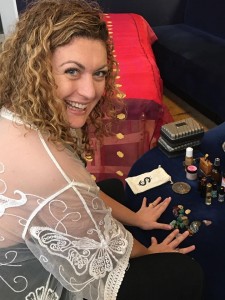 Spread the Sparkle hosted an event this November, raising funds to produce an annual holiday party for the families at Barrier Free Living's domestic violence programs.
Below is a message from the Spread the Sparkle team, and information on how to volunteer to support this incredible annual event.
Spread the Sparkle Writes: 
To all of our talented practitioners, dedicated donors, interested and inspired ticket buyers, we hope you feel exceptional about yourself today!
So many beautiful moments from yesterday…photos coming very soon.
Between ticket sales, donations + silent auction items, we had an exceptional event!
Soul Glow Sparkle Fundraiser brought in: $7173
This was our first ever fundraiser and we got sooooo close to our goal of $10,000. Thank you. Thank you. Thank you!
We are so very grateful for every ounce of energy bestowed upon us by you. Now we get to pass it all on to the women and kids who have survived domestic violence so they can have an epic Christmas Day!!!
If you'd like to volunteer for Christmas, please email: [email protected] subject: XMAS VOLUNTEER. It's a wonderful way to spend your holiday. Sometimes I think we get more out of it than those we are hosting.
If you'd like to send us money on Amazon, when you shop, simply start here: https://smile.amazon.com/ and choose Spread the Sparkle as the charity you support and 3% of your sale comes directly to us every time you shop. Nothing out of pocket for you. Cool, right?
If you'd like to donate, this is the link to our Pay Pal Giving Fund.paypal.com/us/fundraiser/charity/2832333
Love, light, sparkle, kiss, hug. xoxo