Spread The Sparkle Hosts Easter Event For BFL Domestic Violence Programs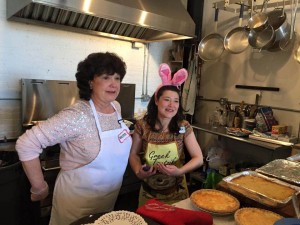 Families from BFL's Secret Garden and Freedom House domestic violence programs were the honored guests at an Easter event featuring a sumptuous luncheon, an Easter egg decorating station and a whole lot of sparkle.
Spread The Sparkle, an organization whose mission is to "create events focused on celebrating family for individuals and kids who have no prior traditions",  treated 8 BFL families to a day of joy. The luncheon, prepared by Valerie and Liana Rowe (pictured above) included baked ham, lasagna, quiche, roasted potatoes, pineapple souffle, green beans, carrots, potatoes and gluten free pasta as well as salad and chick pea salad.
Spread The Sparkle Co-Founders Abbey LeVine and Brenda Fredericks Marino called the inaugural event "a passionate, rich, abundant experience for everyone at Spread The Sparkle.  We were honored to have been given the opportunity to share Easter with the amazingly strong survivors from Freedom House and Secret Garden.  We appreciate the trust and faith that each woman put in us to allow us to create the day for them yesterday. Spread The Sparkle is grateful for everyone's collaboration in making this happen, particularly the women and kids who said "yes" to celebration with us yesterday. "
Theresa MacIntosh, founder of BFL's Speakers Bureau and a member of the Freedom House Board of Directors, was on hand as a featured speaker. Attendees received a Polaroid picture to remember the event, along with a special gift bag.