Spread The Sparkle Hosts Event For Survivors Of Domestic Violence & Families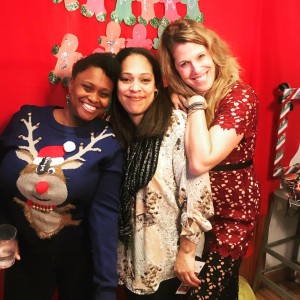 For the third year in a row, Spread the Sparkle hosted a spectacular holiday party for the residents and tenants of Barrier Free Living's programs for survivors of domestic violence with disabilities, and their families.
Dozens of kids received gifts from Santa and participated in games and activities, while adults enjoyed the photo booth and received gift bags.  Spread the Sparkle's team of volunteers provided a sumptuous buffet and entertainment at the event, held at a loft in New York City. Barrier Free Living works with people with disabilities — both survivors of domestic violence and homeless men, women and children — to thrive in safe, supportive communities.
Spread the Sparkle's mission is to "offer a home for the holidays by creating events focused on celebrating family for individuals and kids who have no prior traditions."
"Spread the Sparkle brings so much joy to our tenants and residents, everyone talks about it for months after the event," said Scott Hess, BFL Director of Communications. "We are so grateful for the amazing generosity of this group. It really makes a difference in the lives of people who have been through a lot and can come together as a community to celebrate life."
One participant shared her thoughts in a letter to Spread the Sparkle:
"I want to thank you very much. The ladies had a very lovely time. Everybody talked about it on the train and access-a-ride on the way home. We woke up talking about the Spread the Sparkle event yesterday. Everyone is not happy every day, but I had a Sparkling day yesterday. I want to thank everybody for loving my greens, you made it happen, they were sparkling love-ingly good."