Staff Spotlight: Jennifer Davis, Freedom House Social Worker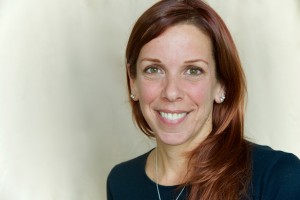 When Jennifer Davis took a leap to pursue social work in 2014, it was the voice of a Barrier Free Living resident that guided her.
"My (graduate school) statement of purpose started with a quote from a resident at Barrier Free Living's transitional housing program**," says Jennifer. "Speedy (the resident) said to me that 'sometimes the only reason I get out of bed in the morning is because I know Luca is coming' (Jennifer's pet therapy dog)."
Jennifer, who joined the Barrier Free Living team as a social worker at Freedom House* this past July, first encountered the agency in 2002. Back then, she led a pet therapy program for transitional housing program residents like Speedy.
"I worked with the Occupational Therapy team and Patricia Motus," says Jennifer. "Luca would arrive and howl to let her presence be known. She would illicit happiness."
Jennifer, who worked as an actor among other things, says that "all of my many careers led me to social work."
While she began her social work career with a focus on criminal justice reform (as a counselor at Rikers), a friend suggested she look into working with survivors of domestic violence because "she felt I became very grounded and centered when dealing with crisis."
"I was on Indeed (job site) and saw the position at Freedom House," says Jennifer. "It was like the angels were singing. How poetic for me to come back to this organization that holds such a special place in my heart."
Jennifer says she was at first apprehensive, since her work had been in criminal justice and working with men, not survivors of domestic violence.
"I give huge credit to Barrier Free Living for seeing the bigger picture and being able to recognize transferable skills."
And what might the future hold for Jennifer?
"I hope to bring a pet therapy program to Freedom House," she says.
*View a virtual tour film of Freedom House here. 
**Barrier Free Living's transitional housing program closed last year. Read more here.