Staff Spotlight: Marlow White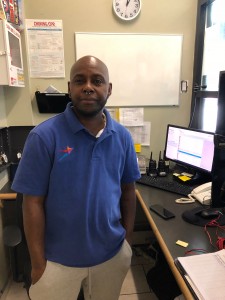 When Marlow White joined the Resident Aide team at Barrier Free Living apartments a few years back, he didn't expect the job to change who he was as a person. But that's exactly what happened.
Marlow, who since joining the agency has become active as a CPI Trainer and a member of the 2019 Communication Committee, says that the work he does at BFL has  "helped me to look at myself and realize that if I'm not willing to work on myself and be honest, then I can not honestly help anyone else."
He is most inspired, on a daily basis, by witnessing the families and children he meets overcome the sometimes daunting challenges they face.
"Understanding and knowing the everyday challenges that families, children, and individuals of color face inspires me to do my best and to be of good service to all those I encounter," says Marlow.
During his free time, Marlow enjoys not only spending time with family, dancing, and the outdoors but he has a passion to create  "workshops events and activities within my community of Central Harlem that promote empowerment and bring people together in meaningful ways."
He is the founder of The Community Farmers Market* / Kidz Corner and Under Our Umbrella Inc. a non-profit. He is also excited about "our newest partnership and project with ThriveNYC to teach community members how to identify, understand and respond when someone is in a crisis."
*The Community Farmers Market is at Adam Clayton Powell Jr. Blvd between 110th and 111th St.