Staff Spotlight: Patricia Motus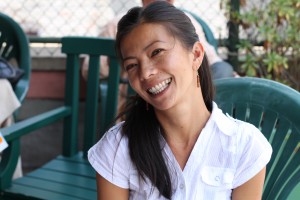 Patricia at the 2010 Barrier Free Living Staff Appreciation Awards
Patricia Motus, who joined the Barrier Free Living (BFL) team as director of the Occupational Therapy (OT) program in 2004, will be heading to the West Coast this month.
Barrier Free Living has been working with survivors of domestic violence with disabilities for nearly 40 years, and has always considered the Occupational Therapy team's work a great contribution to the mission.
Motus began her career as a Staff Therapist at United Cerebral Palsy in 1999, gaining her first experience working with individuals with a variety of disabilities. After that, she moved onto BFL.
"At BFL I immediately began to feel more passion for the work I was doing.  I brought all of my skills and knowledge into focus allowing me to feel effective as a clinician while feeling passionate for the individuals I was working for," says Motus.
Motus, who has supervised and guided dozens of occupational therapy interns at BFL's programs over the years, considers BFL "my pride and joy, my baby. I have enjoyed seeing it grow and flourish over the years.  I only hope to find equally fulfilling work on the West Coast.  I plan to stay connected to BFL as an OT Consultant especially as the agency continues to grow."
The fact that Motus worked as a consultant and had limited time at each program allowed her to become a powerful strategic planner, getting a lot done in short periods as she worked with a constantly changing (every 3 months) intern team.
The rewards working with tenants and participants through the years were rich and varied and included "great 1:1 sessions, helping an individual or family create a healthy effective safety plan for the future, hearing from an intern years later saying how much they gained from their experience at BFL."
"Being around the various program of BFL for the past 15 years has allowed for me to learn so much practical clinical experience and gain so much insight about myself in the process," says Motus. "I learned so much about Domestic Violence and trauma informed work, working with specialized populations deaf, HOH, blind and low vision, (view the OT deaf services team video here).  I'm a richer person and clinician because of these experiences. "
Patricia's Farewell Message:
"It is difficult to put into a few sentences what it has meant to have been a part of the growth of this meaningful organization. As you know, I very much believe in the profound impact the Occupational Therapy Department and the Occupational Therapy Internship Program has on the lives of the individuals we serve. It has been my honor to collaborate and develop OT programming that complement the good work our inter-disciplinary teams already provide our clients/tenants/residents.
I truly would not be the clinician or person I am today if it not for the experience and learning I've been fortunate enough to experience at BFL over the course of the past 15 years. I have genuinely enjoyed my time working with so many passionate advocates and inspiring clients/tenants/residents within the various programs.
As sad as I am to end this chapter in my career, I am also excited to see what the future has in store. I will be moving across the country in a few weeks but in the meantime will be happy to assist in the transition of the new Occupational Therapist, Simone Allen.
I will miss you all, please keep in touch as I would like to remain an Occupational Therapy (OT) resource for you all!!  Thank you!!"