Staff Spotlight: Vanessa Salazar Celebrates 19 Years At BFL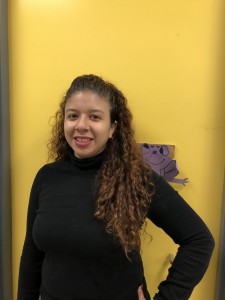 Vanessa Salazar first joined Barrier Free Living as a volunteer in 2001, working at the agency's former Transitional Housing program on the Lower East Side.
Over the years, she has matured as a woman and a team member, giving birth to her first child in 2006 and shifting from administrative work to becoming a Housing Case Manager at Freedom House in 2016.
We spoke with Vanessa about her journey at BFL, and the key to her longevity and success.
BFL: How did you first start with Barrier Free Living?
Vanessa: I started as a volunteer in March 2001, helping Human Resources with clerical work. I got hired in May 2001.
BFL: Give us a few highlights of your evolution through the years.
Vanessa: I started at Transitional Housing as the administrative assistant for about six years. During maternity leave for my first child in October 2006 I was offered the position of administrative assistant at Freedom House. I was very happy to take the full time position. I loved the work I did. I always wanted to do so much more especially to work directly with residents.
In 2016, I became the Housing Case Manager at Freedom House and I enjoy the work with the residents. I became an advocate and the co-chair of the Housing Committee for the New York City Coalition of Domestic Violence Residence Providers. My advocacy work grew so much more.
I am currently a Social Work Intern at Freedom House and a full time student at Stony Brook University and also part of a research project at Freedom House in collaboration with Stony Brook University.
BFL: Tell us a little bit about your current position.
Vanessa: I am the Housing Case Manager. I assist residents in applying for housing and assess their housing options. I am also a social work intern.
BFL: What is it that has kept you at Barrier Free Living for nearly two decades?
Vanessa: The support and my passion to help others. My co-workers.
BFL: Any hobbies to share?
Vanessa: I love the summer, love to go to the beach and have picnics with my family.