Surviving & Thriving Domestic Violence Awareness Event Oct. 21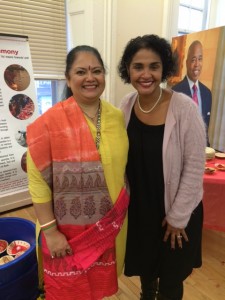 Photo: BFL's Aeilushi Mistry (at left) with Diana Reyna , Deputy Brooklyn Borough President
The Second Annual Surviving & Thriving event took place Friday October 21 from 10AM to 4PM at Brooklyn Borough Hall, 209 Jeralemon St., Brooklyn NY.
The event was a "celebration of courage, resilience, and strength from survivors and organizations that are thriving in our communities." The day included breakfast, relaxation and rejuvenation activities and a host of domestic violence organizations offered resources and workshops.
Barrier Free Living's Organizational Development manager Aeilushi Mistry was on hand as an Individual Artist presenting an Aarti Lamp ceremony.
The event was sponsored by Brooklyn Borough President Eric L. Adams and Deputy Brooklyn Borough President Diana Reyna as part of Domestic Violence Awareness month.
Info: brooklyn-usa.org/survivingthriving