The Giving Group Organiza Un Día de Fiesta en Julio en Freedom House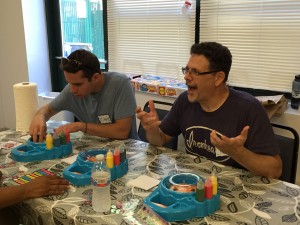 Inspirados por el libro, "A Force for Good: The Dalai Lama's Vision for Our World", Julie Pasqual y algunos amigos crearon "The Giving Group" y se dispusieron a desviar su energía compasiva hacia afuera.
Su generosidad encontró un hogar en Freedom House de BFL este verano, donde el grupo creó un "Un Día de Fiesta en Julio" para las familias del refugio de  violencia doméstica. Pasqual ha estado donando su tiempo impartiendo clases de yoga en Freedom House durante los últimos 8 años.
Las actividades en el evento incluyen spin art, decoración de galletas y el yoga. El equipo de terapia ocupacional de BFL trabajó con The Giving Group para crear el evento y facilitar las actividades.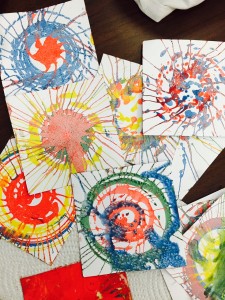 "Un montón de galletas fueron decoradas por los niños y generosamente dadas como regalos a las madres. Una gran cantidad de burbujas fueron sopladas lo que cautivó a los niños ", dice David Kessler, miembro del Grupo Giving. "Los padres participaron en una clase de meditación y yoga que les dio un pequeño descanso y tiempo para relajarse".
El Grupo Giving espera volver a trabajar pronto con el refugio.