Todd Haynes' Film Wonderstruck Features Deaf Actor Millicent Simmonds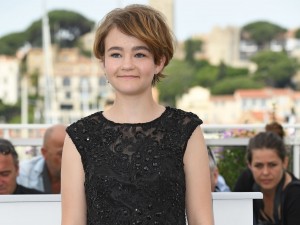 Wonderstruck, the 2017 film directed by Todd Haynes, features deaf actor Millicent Simmonds (photo above) in a lead role, along with a number of deaf actors in the film.
The film is based on the 2011 novel Wonderstruck by Brian Selznick, who adapted the novel into a screenplay.
Deadline.com reported that Simmonds, a deaf actor  "will play Rose, whose half of Wonderstruck will be presented as a silent film in both a nod to movie history and an aesthetic designed to capture her perspective. In addition, this section of the narrative will see an unprecedented number of deaf actors in roles that would normally go to hearing actors."
The film's director Todd Haynes said they wanted to cast a deaf actor since deafness was integral to the two stories and the driving theme in the film. He instructed his casting director Laura Rosenthal to seek out deaf children around the country and if they could not find someone, they would cast a hearing child. They sought out deaf communities and received audition tapes from 200 deaf children.
Simmonds was ultimately cast, and on set, she worked with American Sign Language interpreter Lynette Taylor.