Tu-Lu's Gluten Free Bakery Donates Valentine's Day Cookies To BFL Shelter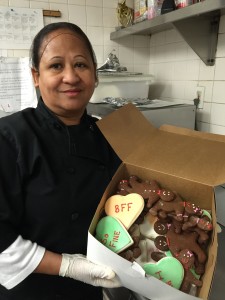 Tu-Lu's Gluten Free Bakery continues its weekly donations to the Barrier Free Living (BFL) Transitional Housing shelter delivering Valentine's Day cookies to residents.
The BFL program feeds 48 formerly homeless residents with disabilities daily. The kitchen staff welcomes the donations which range from desserts to Honey Oat or Whole Grain Sunflower breads.