Volunteer Brings Career Empowerment Workshops To BFL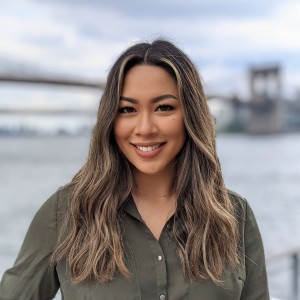 Barrier Free Living has a history of rich volunteer connections, from corporate groups sprucing up a community room to new supporters like Ashley Cheung.  This past year, Ashley brought a wealth of HR experience to our programs for survivors of domestic violence with disabilities through workshops and 1-1 work. 
What inspired you to volunteer at Barrier Free Living?
I find purpose in empowering others and became a rape crisis counselor upon moving to NYC, taking a trauma-informed approach to advocating for survivors of sexual assault and domestic violence in the emergency department.
Blending that with my experience as an HR Leader, I decided to design and bring career empowerment workshops (Indepower.org) to domestic violence shelters doing impactful work, like Barrier Free Living, to help survivors disproportionately affected by economic & societal systems build proficiencies for self-reliance.
How did you develop the career focused workshop? How did you develop the workshop curriculum?
I developed the career empowerment workshops (Indepower.org) for survivors to not only build knowledge, skills, and abilities – but courage, belief, and trust in one's self. I believe that the equitable support survivors need consists of both information and guidance to build career and financial stability for themselves.
This program includes a combination of educational courses and individual consulting on foundational elements like resume building, interview skills, and career development. There are more courses on various topics soon to come!
How has the experience been so far? What have you learned about the participants through the process?
Working with clients at Barrier Free Living has been wonderful, from engagement in interactive group sessions to deep dives into specific challenges in one-on-one settings.
Every survivor has a core strength, and I've appreciated the opportunity to help highlight those strengths and give power to every person's unique identity. I look forward to continuing to build meaningful partnerships and watching clients thrive in the future!