Volunteer Spotlight: A Doula & Belly Dance Teacher, Karisma Brings Creativity & Vibrancy To BFL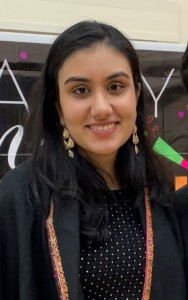 With experience as a doula* and and a teacher of belly dancing, Karisma's love for working and writing about people in complex and creative situations led her to seek out a volunteer opportunity with the Barrier Free Living Communication Department.
Karisma will offer support with social media messaging for the agency, as well as writing for the blog and being involved in events. We chatted with her as she began her journey with BFL.
BFL: What drew you to volunteer at Barrier Free Living?
Karisma: I was interested the unique mission of BFL to help individuals who are both disabled and victims of domestic violence. My volunteer doula work has led me to become interested in societal issues that predominantly impact women, such as domestic violence.
As a doula, my favorite cases tend to be high-risk cases, because I find supporting individuals in these complex situations extremely rewarding. Therefore, I felt like BFL would be a phenomenal place for me to volunteer, because I feel like helping someone who is concurrently dealing with both disability and domestic violence would be a rewarding and ultimately impactful challenge.
I also love the  approach BFL takes to helping its clients. By working for an organization that provides its clients the tools they need to go off and live independent and prosperous lives, I feel like I can be a part of something that truly make a long-lasting impact.
BFL: Tell us about your belly dancing how did you first start practicing that and do you currently teach?
Karisma: I was first introduced to belly dance as a freshman in college, when I joined the UMass Belly Dance Club(UBDC). My involvement in this club led me to fall in love with the art form as it allowed me to express myself in a creative way.
I began taking belly dance classes outside of school as well. The summer before my junior year of college, I taught belly dance at a nursing home. My senior year of college, I became president of UBDC , and I would teach a group for 30-40 individuals on a weekly basis, and I would fulfill other responsibilities towards UBDC.
In May of 2020, I graduated from UMass Amherst with my Bachelor's degree and graduated from UBDC as well. Therefore, I am not teaching belly dance at UBDC anymore. Because of COVID19 and other responsibilities, I have not yet been able to teach belly dance in my UMass postgraduate life.
BFL: Tell us about your work related to pregnancy and childbirth.
Karisma: My interest in birth started on the dance floor! I had heard about this myth , which said that belly dance was used in ancient times to help women prepare their muscles for childbirth. I found this idea intriguing. Therefore, I decided that I wanted to do my senior thesis on the benefits of belly dance for childbirth, as it has not really been studied in scientific literature.
I also created my own major titled Dance Applications in Maternal Health through the Bachelor's Degree in Individual Concentration program at UMass Amherst. While learning about childbirth in my classes and studies, I developed the desire to have some hands-on experience with childbirth. Therefore, I decided to become a doula! I became a doula around 2-3 years ago.
Upon becoming a doula, I became active in my local hospital's volunteer doula program, where I provide emotional and physical support to individuals who lack their own social support system and cannot afford a doula themselves. My involvement in this program led me to fall in love with childbirth and the field of healthcare. Therefore, I am currently in the process of applying to medical school.
BFL: Are you originally from New York and where do you currently call home?
Karisma: I was born in Ohio, and I moved around a bit growing up. I currently live in Massachusetts. However, I have strong ties to the state of the New York, because my grandmother, aunt, uncles, and cousins all live in the state. I visit the state frequently, and I love the state. I hope to relocate to and live in New York sometime in the future.
*A doula is a trained companion who is not a healthcare professional and who supports another individual through a significant health-related experience, such as childbirth.