Volunteer Spotlight: Intern To Intern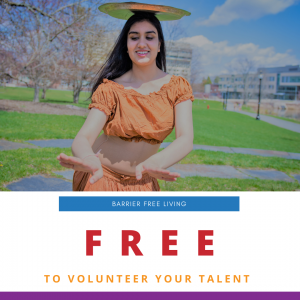 In October 2020, Karisma signed on as a Communication Department intern at Barrier Free Living (BFL). In addition to contributing to the agency New Visions blog, she also ran workshops on belly dancing (photo above) and shared her rich experience as a doula.
 
This summer, Karisma helped the agency welcome a new communication intern, Austen, taking a moment to chat with him about what drew him to BFL for his 8-week stint.  She shares her insights below.
 
As a visually impaired person, Austin had a passion early on to work with people with disabilities. He also had a keen interest in media which blossomed in High School, when he joined the SPARCC film club.
A student at Marist College with a focus on media studies (TV & Film, minor in advertising) he began to work at foundations that supported people with disabilities, including the organization Visions. He learned about the work BFL does with survivors of domestic violence with disabilities, and knew it was a great next step for him.
The summer internship at Barrier Free Living was a perfect fit he says, allowing him to grow his skill set around writing and also in terms of editing short films. He says he plans to continue volunteering for non-profits like BFL in the near future.
Learn how you can Make A Difference.