Volunteer Spotlight: Kitty Shares Her Talents & Art!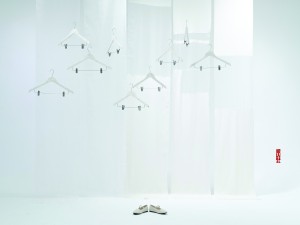 Inspired by Barrier Free Living's (BFL) work with survivors of domestic violence with disabilities, artist Kitty reached out to the agency this winter ready to make a difference.
This spring she will be creating a colorful wall mural at BFL's Freedom House domestic violence shelter.
And this March, she is sharing her incredible talents (photos featured above and below) at the New York City art show INTER-RITUALS: Between Materiality and Performance.
The exhibition brings together works by three Chinese female artists working in the US, Kun (Kitty)Hong, Yin Zhang, and Yinglun Zhang and runs 3.30.2023-4.1.2023 at Caelum Gallery (526 W 26th Street, #315).
INTER-RITUALS shares that: Kun Hong is a designer, writer, activist, and visual artist based in New York City. Intrigued by the fabrication of meaning through form, she utilizes established semiotics of the global, contemporary fashion and art system as her method of expression. Her works juxtapose and weave together references from cross-cultural, historical, and political research, subtly addressing social experiences and concerns of intersectional communities.