Volunteer Spotlight: Maurine With Saori Arts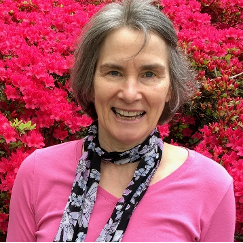 Barrier Free Living's (BFL) summer Communications Department intern Austen Bird not only spoke with Saori Arts volunteer Maurine Packard, he also stopped into the zoom workshop! The special weaving class ran for the month of July  and drew BFL program residents, tenants and participants along with agency staff.
"I learned a lot from Maurine and how weaving can be a relaxing activity that can let your creativity flourish. Maurine shares her expertise with people that want to break free from every day stress," says Austen.
Austen: Tell us about yourself.
Maurine: I am a retired physician. When I retired, I discovered Saori Weaving.  Saori is a type of weaving that is easy to do and is done on a loom. A philosophy of Saori Weaving is "everybody has their own inner creativity". In Saori we don't teach – rather we show people how to weave and let people figure out on their own what patterns, colors, styles they want to use. We find beauty in all areas.
Austen: How did you find out about BFL?
Maurine: One of the people in our organization is very tied into the disability community in New York City.  It seemed like a great organization to volunteer with. We contacted Scott at Barrier Free Living and Simone an occupational therapist to collaborate with on weaving techniques.
Austen: What have you learned from volunteering with BFL?
Maurine: People come from different backgrounds and they (all) like to create. One participant was an expert at weaving.  Most people were just starting out. Participants enjoyed exploring the different kits that were provided. Some people had a background in knitting. You can take that same skill set and use it towards weaving.
BFL: Do you feel volunteering with organizations like BFL is important and why?
Maurine: Yes (it is important). We find it gives people self-confidence and relieves stress.
After a successful summer workshop, Saori is planning another class in the Fall.