Volunteer Spotlight: Photographer Erica Lansner Creates New Campaign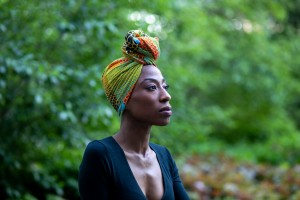 An award-winning photojournalist, Erica Lansner – born on the Upper West Side of New York City – has traveled to more than 35 countries in Europe, Asia, the Middle East, Latin America and Africa on assignment for leading international magazines and corporations.
 
This July, thanks to her incredible generosity and dedication to "making a difference" in the world – she took up her camera (as a volunteer) to create portraits (see photo above) representing Barrier Free Living's mission working with survivors of domestic violence with disabilities.
Barrier Free Living's new Communication Department intern Austen Bird caught up with Erica to talk about the photo shoot.
BFL: What inspired you to volunteer with BFL?
Erica: The way I like to volunteer my time and give back to causes that I believe in is through my photography to uplift and amplify a cause to help the organization. When volunteering its rewarding to interact with the individuals. It's not over yet. I will probably come back to photographing more people in the program.
BFL: What have you learned from volunteering with BFL?
Erica: To pay attention to people's needs.
BFL:  What inspires your artwork and how does your work relate to the services BFL provides?
Erica: My photography has been oriented to photographing people and telling their stories. This is what I love everyday – photographing people, connecting with people. I hope to express their message in the photography
BFL: Who is your inspiration for creating artwork?
Erica: My mother was a painter – creating oil paintings.  Growing up in New York City going to museums, having artist role models – my father was a journalist. There were a lot of influences in my life and my early life based on being around art, photography and journalism.
BFL: Do you feel by volunteering with BFL you have gained or learned new life skills?
Erica: The values of deep listening to people's stories – to  really hear from "where they are or where they're coming from" and to really understand people's past. Everything in life for me is telling someone's story.
BFL: Who is your favorite artist?
Erica: I think in historical terms it is Matisse because of the colors and in contemporary terms is Jordan Casteel paintings and Alice Neel.
BFL: Do you feel volunteering with organizations like BFL is important and why?
Erica: Yes! I feel anybody who can share their skills that are valuable to an organization – especially if you can share your skills to amplify an organization's message – I feel that everybody has a responsibility in their life. If people have the means they should volunteer. Its much more meaningful than just giving money. I think to support organizations that people are not familiar with – organizations less known or recognized – is valuable.