Leadership
A leader is a dealer in hope

– Primal Leadership, Daniel Goleman
Meet our board, leadership and program teams.
BFL Holding Directors

Gerald A. Francese, Esq. – Chairperson
Dr. Randolph Mowry, PhD, CRC – Secretary
Malcolm Wattman, Esq. – Treasurer
Lenore Neier
Daniel O'Connor, CPA
Frank Ikonero Mugabi, Esq.
Robert C. Foote III, Esq.
Alejandro Ramirez
John F. Fritts, Esq.
Legal Consultant
Freedom House Directors

Sally N. MacNichol, MDiv, PhD – Chair
Lenore Neier – Secretary
Ravi Kotru
Rev. Yvette D. Wilson-Barnes, MA, JD, MDiv
Leadership Team

Paul B. Feuerstein, President/CEO
Donald E. Logan, MPA Chief Operating Officer
Cynthia Amodeo, LMHC, Chief Program Officer 
Transitional Housing
LeShan Gaulman, MSW Program Director
David Rodriguez, Facility Manager
Secret Garden
Jules Perkel, LCSW, Program Director
Kaylen Hagadorn, LCSW, Assistant Program Director
Freedom House 
Myra Ricard, LMSW, Program Director
Linette Holmes, Resident Aide Manager
Maritza Gomez, Program Coordinator 
Barrier Free Living Apartments
Julie Pena, MSW, Program Director
Edwin Nolasco, Resident Aide Manager
Barrier Free Living Executive Team
Yueqin Li, Director of Finance
Aeilushi Mistry, Organizational Development Manager/HR
Laura Fidler, MPH, BFL Project Director OVW Collaboration
Scott Hess, MFA, Director of Communications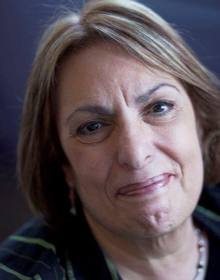 Barrier Free Living President/CEO Paul Feuerstein honors the life of long-time Board Member and friend Anna Fay
On December 15th, 2017, Barrier Free Living and the disabled community lost one if it's guiding lights. Anna Fay has served as the Vice Chairman of Barrier Free Living's Board and a member of its Program Committee. In her role as Senior Vice President of Independent Living Services, Independence Cares System, she was our liaison with our partner agency in assuring that Activity of Daily Living dependent people with disabilities had transitional housing to support their path to community living.
I first met Anna when we were organizing advocates in the disabled community to go to Washington to protest Ronald Reagan's first round of domestic budget cuts. I have valued her as a fellow advocate, as a counselor on disability rights issues and as a friend. Her obituaries speak to how much more she was in her life of advocacy:
"Anna Fay worked with the Queens-based advocacy group the Architectural Barriers Committee in the early 1970s and helped lead a watershed demonstration in 1973 where New Yorkers with disabilities successfully demanded that New York State add them to the list of those exempted from a ban on motor vehicles in the city when gas was being rationed because of the OPEC oil embargo. Their success emboldened the disability community to push for greater access to all kinds of public accommodations.
Ms. Fay took part in a national sit-in campaign in 1977 to force the federal government to keep its promise to end discrimination based on disability from entities receiving federal money. She joined a small group of demonstrators who occupied the New York City office of the Department of Health, Education and Welfare (HEW) for 48 hours while a larger group demonstrated outside. These demonstrations led US led HEW Secretary Joseph Califano to move ahead on Section 504 of the federal Rehabilitation Act, which would provide the legal framework and much of the language for the Americans with Disabilities Act of 1990.
Ms. Fay also played an important role in the founding of important New York institutions. She led the formation of the New York City chapter of the National Paraplegia Foundation and served as its first president. Believing the community needed a more full-time agency to help people with disabilities achieve independence, Ms. Fay helped secure the grant that transformed the chapter into the state's first independent living center, CIDNY.
She was present at the creation of and served as a New York delegate on the American Coalition of Citizens with Disabilities (ACCD), a national cross-disability organization that helped write Section 504 among other major accomplishments on behalf of people with disabilities.
She was Director of program development at the Westchester Independent Living Center and coordinated Consumer-Directed Personal Assistance Services in Westchester County, acting as liaison between the Department of Social Services and the fiscal intermediary for the program. She was also the founder and former director of the Yonkers Independent Living Center."
More Stories