Paul B. Feuerstein, CEO/Founder of Barrier Free Living Announces Plan To Retire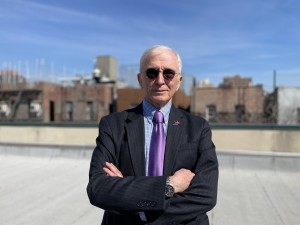 An advocate and visionary for survivors of domestic violence with disabilities for over four decades, Paul B. Feuerstein CEO/Founder of Barrier Free Living (BFL) will retire December 30, 2022.
Beginning in 1981, Paul was a driving force behind BFL's ground-breaking programs, including Freedom House the nation's first fully accessible shelter for survivors. He will continue to consult on the agency's newest vision Freedom Village.
"I've been pondering retirement since I turned 70," says Paul. "I had hoped to have finished the construction of Freedom Village before I retired, but COVID delays got in the way. As I near my 75th birthday, my major concern for Barrier Free Living was having a successor who understood the trauma-informed culture and the values of Barrier Free Living to continue the support and leadership that our terrific staff needs."
Gerald Francese, Barrier Free Living's Chairman of the Board, highlighted Paul's dedication and years of service in an announcement to the agency team.
"Your warmth, caring, vision, and amazing skills will be sorely missed at Barrier Free Living," says Gerald. "You founded and built an amazing organization that has improved the lives of countless people – including our clients, our staff and board, and all the communities and families that BFL touches."
Cynthia Amodeo, who joined the agency in 2008, will take on the role of Chief Executive Officer.
"I am proud and humbled to be named the next CEO of Barrier Free Living." says Cynthia. "It is an exciting time as we look towards the future through our continued advocacy, developing new partnerships and programs supporting survivors with disabilities and those who are D/deaf."
Cynthia has held several positions at BFL including her latest Chief Program Officer. Throughout her years she has led the organization through transitions and growth and has demonstrated visionary leadership.
"I couldn't be more confident in Barrier Free Living's future after the board's decision to select Cynthia Amodeo as our new Chief Executive Officer," says Paul. "Cynthia has excelled in every role she has taken on at Barrier Free Living. I look forward to devoting more of my time to the work of the Institute for Healing of Memories which has provided transformational workshops to our staff and the people we serve. There will always be a special place in my heart for Barrier Free Living, the boards and staff I have worked with, and the people we serve."
BFL will honor Paul's commitment to the agency's mission with a special celebration in December, 2022. For details reach out to: [email protected]