AXIS Dance Co. Performs Nov. 17 NJ Performing Arts Center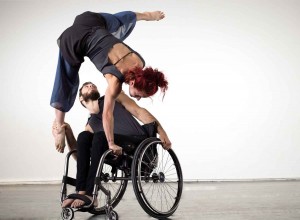 Axis Dance will perform Nov. 17 at 7pm at the New Jersey Performing Arts Center.
Seen on So You Think You Can Dance! AXIS Dance Company is one of the world's leading and most innovative ensembles of dancers with and without disabilities.Paving the way for physically integrated dance, each year AXIS shares its cutting-edge artistic and education/outreach work with thousands all over the world.AXIS exists to change the face of dance and disability.
Founded in 1987, AXIS emerged at a time when the Disabilities Rights and Independent Living Movement were making strides and the dance community was beginning to open its doors to people with disabilities. Artistic Director Judith Smith has taken AXIS to new heights by collaborating with leading contemporary choreographers and composers, such as Bill T. Jones, Stephen Petronio, Meredith Monk and David Dorfman.
With more than 75 works in its repertory, AXIS has toured major dance venues and festivals in more than 100 cities nationwide, Europe and the Soviet Union.
Tickets: $20 – $35
888-GO-NJPAC
New Jersey Performing Arts Center (NJPAC), located in downtown Newark New Jersey, is among the largest performing arts centers in the United States.  NJPAC is the artistic, cultural, educational and civic center of New Jersey; where great performances and events enhance and transform lives every day. As New Jersey's Town Square, NJPAC brings diverse communities together, providing access to all and showcasing not only the state's, but the world's best artists while acting as a leading catalyst in the revitalization of its home city. Through its extensive Arts Education programs, NJPAC is shaping the next generation of artists and arts enthusiasts. Since opening its doors in 1997, NJPAC has attracted over eight million visitors (including more than one million children) in its continuing mission to nurture meaningful and lasting relationships with each of its constituents.
In association with the Clement A. Price Institute on Ethnicity, Culture, and the Modern Experience at Rutgers University-Newark.