Barrier Free Living Staff Spotlight: Simone Allen, Occupational Therapy Manager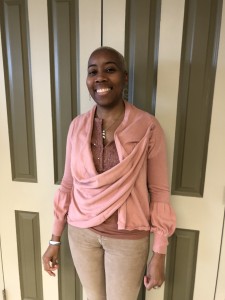 Simone Allen joined the Barrier Free Living team as the new Occupational Therapy (OT) manager this January, bringing with her a wealth of experience and a healthy dose of curiosity. Simone took over the role when OT manager Patricia Motus headed to the West Coast in December 2019, after 15 years of service. (Read Patricia's profile story.)
BFL: What led you to apply to Barrier Free Living?
Simone: My old manager at Mount Sinai-Beth Israel actually forwarded the job post to me. I previously worked as an Occupational Therapist on an inpatient Psychiatry unit, and was working as the Clinical Fieldwork Coordinator at the time the Occupational Therapy Program Manager position at BFL became available.
BFL: What is it about BFL's OT program that attracted or appealed to you?
Simone: Upon speaking with (outgoing OT program manager) Patricia Motus and learning about her role, I became intrigued–I only knew about BFL's Transitional Housing program via former patients at Beth Israel, so I didn't know there were additional programs in the agency until I viewed the BFL website. I have also never worked in a community-based setting, outside of volunteering at a clubhouse (Goddard Community Services' The Other Place (TOP) Clubhouse), so the setting was also something that was new, but challenging as well.
BFL: Any specific goals for your first year at BFL?
Simone: I would like to see the OT program grow, in terms of building fruitful relationships with other colleges and universities outside the Tri-state area. As OTs, we really don't learn much (if at all) about Domestic Violence, and I think this program opens up the eyes of not only future clinicians, but also the participants/residents/tenants views on how Occupational Therapy positively contributes to their lives and goals.
BFL: What do you hope to achieve in your work at our programs?
Simone: I'm slowly getting to know the participants/residents/tenants (as you know, there are A LOT!), but those who I have either met or have already established a rapport with have spoken highly of the OT program and interns they have worked with. I want to continue encouraging them to participate in our OT groups and individual sessions so that they can utilize the services we provide at all sites.
BFL: Any hobbies or interests to share?
Simone: I'm a novice genealogist; I love to travel and learn about different cultures; I'm also a history buff!
BFL: Are you a native New Yorker, or if not where did you grow up?
Simone: I was born in Jamaica, but I'm a "native" New Yorker in the sense that I've lived here since the age of four :)!
Simone T. Allen, MS, OTR/L
Occupational Therapy Manager