BFL Talks To Miss America About Her DV Platform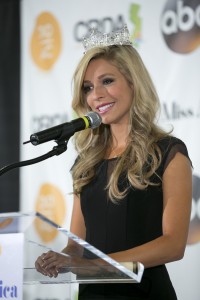 When Kira Kazantsev (Miss New York) was crowned Miss America 2015, it was not only a win for the Big Apple, but for survivors of domestic violence nationwide.
Kira chose domestic violence as her platform and together with the Miss America Organization has launched a bold #VOWtoEndIt campaign during October's Domestic Violence (DV) Awareness Month.
Barrier Free Living caught up with Kira to talk about her platform, her passion to end DV, and how she has inspired the survivors of domestic violence with disabilities at Barrier Free Living's programs.
"When you join Miss America you have to pick a platform to advocate for. I wanted to talk about something that I knew and had personal experience with," said Kira, who chose the issue partly because of an abusive relationship in college. "It's been one of the best experiences I have had, to be able to raise awareness about the issue."
While DV may be a hot button topic during October, Kira wants it to stay on people's radar.
"After the Ray Rice scandal broke, it was something  people spoke about for three weeks. It was a flash in the pan. Though Domestic Violence is still prevalent on national media outlets, it's going away," said Kira. "I want it to be something that people pay attention to legitimately every day."
As Miss America, Kira has an opportunity to reach a vast number of people who may have not been exposed to the issue of domestic violence. She hopes to "make it something people really care and learn about."
She also encourages policy makers and the justice system to step up.
"I think the justice system is driving the get-away car for the abuser. A woman has to be beaten enough to be able to prove it before anyone can pay attention or give her the support she needs. That's really challenging," said Kira. "That's why so many cases go unreported."
Kira said she was taken aback by the amount of effort it took to renew the Violence Against Women Act (VAWA).
"For me it's a no brainer. We need these laws. These protections. Why is there so much push back from policy makers?" said Kira. "During the midterm elections politicians are using this issue (DV) to help themselves or hurt their competitors but are they doing anything in the policy spectrum? There is much more that needs to be done."
One of the most powerful things a person can do, Kira said, is to listen.
"Domestic Violence is very common. I think people just don't know or don't want to know. We need to encourage people to ask 'are you OK?'" she said. "To be someone who will listen. That is more valuable than anyone can know."