BFL's Aeilushi Mistry Shines In New York Times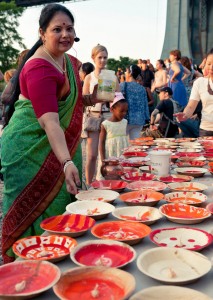 BFL Team member Aeilushi Mistry (pictured, JULIENNE SCHAER photo) was featured in a recent New York Times piece about the upcoming Hindu Lamp Ceremony.
The New York Times Wrote:
Why not wind down the season back where we started, at Brooklyn Bridge Park, with a pair of intriguing events in August. On Aug. 2, Aeilushi Mistry, a classical Indian dancer and arts educator, will conduct a Hindu aarti lamp-lighting ceremony, a traditional petition for peace and prosperity, at Pebble Beach, between the bridges in Dumbo. On Aug. 23, Revolutionary War buffs, again at Pebble Beach, will hold an annual re-enactment of George Washington's harrowing escape from British forces in the Battle of Brooklyn. Both events are, of course, FREE.
(Hindu lamp ceremony, Aug. 2 from 4 to 8 p.m.; Battle of Brooklyn re-enactment, Aug. 23 from noon to 2 p.m.; Main Street at Plymouth Street, Dumbo; brooklynbridgepark.org.)