Donor Profile: Inspired To Give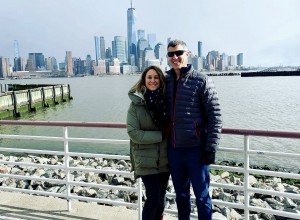 Larry and Lysa first became connected to Barrier Free Living through a touch of sparkle.
The couple are members of Spread the Sparkle, a group which has created holiday events for the residents and tenants at Barrier Free Living's programs for survivors of domestic violence with disabilities for the past several years.
In 2020, Larry and Lysa decided to step up their support of the agency, reaching out to friends and colleagues, asking them to donate to Barrier Free Living's 40th Anniversary fund raising event,  the Wreath of Strength (held December 2020).
"Larry and I have been blessed to have found Barrier Free Living in 2015 through Spread the Sparkle," says Lysa. "We know how important Barrier Free Living is and how important the people are who are supported by it. We feel grateful to be able to support, donate and fundraise for them, knowing the incredible work they do to support their community."
The caring couple guided dozens of new donors and supporters to Barrier Free Living and continues to be a champion for the agency.
Want to make a difference? Find out more here.