Freedom House New Director Joins Team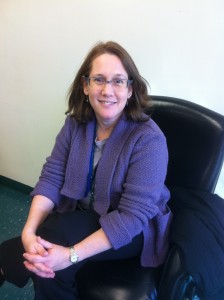 Nicole Lesser has joined the BFL team as Director of the agency's Freedom House Emergency Shelter. An expert in the area of violence against women, Nicole brings 20 years of experience to her new position.  She has specialized in collaborative systematic change, nonprofit management and program design.
What drew you to BFL as an agency and Freedom House as a program? What about the agency mission appeals to you?
I met Paul Feuerstein (CEO of BFL) through a mutual colleague and after we set up a time to meet, I went to the BFL website. On the Leadership Page I saw the inverted organizational chart and I thought, "Wow!  It's not often that you see a domestic violence agency look at their own issues of power and control within their organization.  That's someone I could work for."  I also believe very strongly that services need to be provided to ALL.  So often, various marginalized communities are screened out of services because the provider does not know how to meet their needs.  By specifically serving people with disabilities, BFL is removing barriers to safety for a community that is particularly vulnerable, and I feel good that we are doing that head on. 
What's your first priority in taking on the position of Freedom House Program Director?
It is very easy for people doing shelter work to become isolated from the rest of the domestic violence movement.  By our very nature at shelters, we operate in emergency crisis situations and rarely take the time to look up from that.  I want to support the staff in this difficult work and connect them to the exciting things that are happening in our movement; to bring the latest research and best practice information into Freedom House so that staff feels equipped and empowered to provide services that truly meet the needs of survivors.
What do you do to de-stress after a day's work?
Well, I have two wonderful children who do not give me a lot of time to do that after work.  However, I know that self care is extremely important for longevity in this field.  I try to exercise a couple of mornings a week before work and on weekends.  I also really enjoy art museums, watching edgy television shows and science fiction movies.  I also enjoy spa pampering and talking with friends.  My newest hobby is learning about cheese.
What book are you currently reading?
I haven't read it yet, but I just bought Don't Call Me Inspirational: A Disabled Feminist Talks Back by Harilyn Rousso.  But don't be fooled, most of my reading has nothing to do with work and is just mindless fun.