Hearts of Gold Ribbon Cutting Kick's off Sponsorhip of Freedom House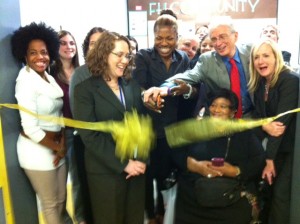 A special ribbon cutting ceremony was held at BFL's Freedom House program to kick off Heart's of Gold sponsoring the shelter for the next year.
The Hearts of Gold mission is to "foster sustainable change in lifestyle and levels of self-sufficiency for homeless mothers and their children. " Hearts of Gold's next event at Freedom House is a Halloween party in October for the children and families residing at the domestic violence shelter.
Attending the ribbon cutting were Deborah Koenigsberger, Founder, Hearts of Gold, along with the group's Board members, Margaret Sullivan, Rhonda Ross, Beatrice Seravello, and Inge Zegwaard.
Freedom House Board Members and staff also attended including:  Ravi Kotru, Freedom House Board Chair and Board members Eileen Murphy, Adrian Walter Ginzburg and Teresa McIntosh. Staff attending included BFL President/CEO, Paul Feuerstein
and Freedom House team members Nicole Lesser, Myra Ricard, Cynthia Amodeo, Yenely Gomez, Vanessa Salazar, Michelle Watsula (Ulmer), and Organizational Development team member Aeilushi Mistry.