Kids Wish Network Heroes at Freedom House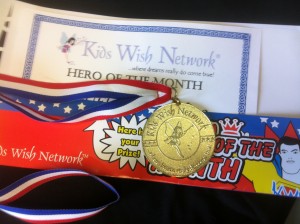 Since 2010 the Kids Wish Network has honored more than 30 children at Freedom House Emergency Shelter with a Hero of the Month award.
The honorees of this program are children between the ages of 3 and 18 who have faced and overcome difficult circumstances, often enduring a great deal of pain and suffering.
"This really speaks to the children's  courage during time of hardship, as their families enter our domestic violence shelter and often have to leave their homes, friends, change schools, and leave some of their comforts such as their toys and clothing all for safety.  All of our children deserve to be recognized and Kids Wish Network helps us do just this," said Cynthia Amodeo, Coordinator of Family Services at Freedom House.
One Hero's Story:
Maureen, who is 15 years old and was born in the Dominican Republic, was given one of the first Freedom House Hero of the Month honorees in 2010.   She moved to the United States at the age of 7.   Not only did Maureen witness her father physically and verbally abusing her mother, Maureen was also threatened by her stepfather and was insulted repeatedly. Maureen was elated to move to Freedom House as it offered her family safe haven from abuse and a path to healing. Despite multiple moves and school changes, Maureen is a wonderful student.   She hopes one day to attend college and become a police detective so that she can make a difference in her community.