Michelle Reyes Joins Secret Garden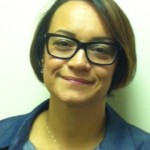 Born and raised as part of a large deaf family in Brooklyn, Michelle Reyes set her sights on giving back to the community after graduating from Gallaudet University.
This year, she joined Barrier Free Living's Secret Garden Domestic Violence program as a social worker, counseling both Deaf/HOH and hearing individuals. We caught up with Michelle to talk about her first year with BFL.
How did you learn about Barrier Free Living, and what drew you to our mission?
I learned about Barrier Free Living when I was working as a Deafness Advocate for the Brooklyn Center of the Disabled many years ago, however my first experience working with Barrier Free Living was in 2007 as a BSW intern for Gallaudet University. Having firsthand experience as a person with a disability and working as a social worker allows me the opportunity to make a difference in the lives of individuals with disabilities.
What is it that you find most unique about the agency, in relation to the work you are doing here?  
While there are many other Domestic Violence programs for able people, BFL only services people with disabilities which in itself is unique.
What do you hope to accomplish in your first year, any particular goals or projects you are looking forward to?
Providing my clients with access to services they need to live a safe, productive and independent life is and will always be my goal.
What do you like to do in your spare time, when not at work?
When I am not working, I am tending to my very active 3 year old. We spend time sightseeing and a lot of quality time with family and friends.