Remembering Theresa A. H. McIntosh: Survivor. Advocate. Inspiration.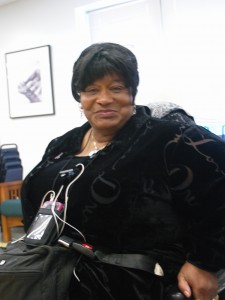 It is with great sadness that we announce the passing of Theresa A. H. McIntosh, founder of the Barrier Free Living (BFL) Speakers Bureau and a BFL Freedom House trustee.
Theresa was a survivor of domestic violence who was also an above-the-knee amputee. Theresa was born, raised and educated in England. Following a car accident in 1992, Theresa became a resident at Barrier Free Living's Transitional Housing Program and began the process of rebuilding her life.
"Theresa represented all that we hope for disabled survivors of domestic violence," says Paul Feuerstein, President/CEO of Barrier Free Living.  "She was in her words a Thriver. We will miss her enthusiasm, her passion and her wisdom.  Her advocacy helped us to create Freedom House Emergency Shelter for Disabled People and Barrier Free Living Apartments.   She leaves behind a great legacy.  We mourn her loss and we give thanks for her life!"
Among Theresa's many accomplishments are the fact that she was a member of the Voices of Women (VOW) project; a Mayoral appointee representing the voice of disabled survivors of domestic violence; a member of the Safe Horizon Domestic Violence Hotline Advisory Committee; founder of Barrier Free Living's Speakers Bureau; member of the Best Practices Committee of the New York Coalition of Domestic Violence Residential Service Providers and a distinguished Barrier Free Living Freedom House trustee. Theresa was also a runner-up in the Miss Wheelchair NY competition.
Theresa was a tireless and inspirational advocate for disabilities and domestic violence and inspired other survivors not only to "carry on" but also to thrive by her example. Theresa is survived by her husband and three children.
Georgette Delinois, Program Director at Barrier Free Living's Secret Garden, began working with Theresa in 2000 as her therapist.
"Theresa was an integral part of Secret Garden where, as she would say, 'I acquired all the skills I needed to face my life challenges.' I have watched Theresa grow from an insecure survivor into a fierce advocate for survivors with disabilities," says Delinois. "Theresa always wanted to give back to BFL for being on her side during her trying moments. With the Speakers Bureau  she taught participants how to effectively share their stories in order to help other survivors move out of abusive relationships. We are her family as she so often said, and we will miss her tremendously."
All who knew her will profoundly miss Theresa. Those who benefited from her advocacy and example will also feel her absence. We remember and honor Theresa and bid her a heartfelt "Cheerio."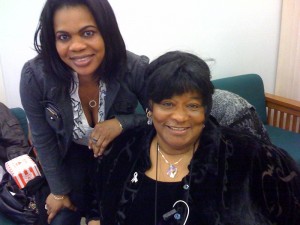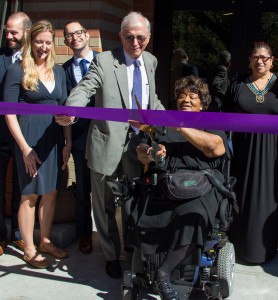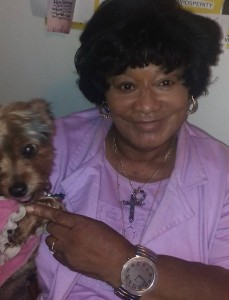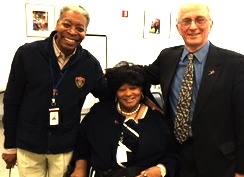 Caption: From top left, longtime friend and home attendant, Nicole; Theresa cutting the ribbon at the September 2015 BFL Apartments opening with Paul Feuerstein; Theresa with her beloved Yorkie Annabelle; Theresa at BFL with Paul and Donald Logan Chief Operating Officer.