Staff Spotlight: Tiffany Williams Bids BFL A Fond Farewell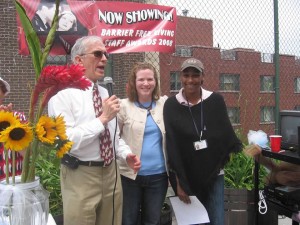 Tiffany Williams joined the Barrier Free Living (BFL) team in 2004 driven by a fierce determination to give back to a community that saved her life.
"I was homeless from age 6 to 13. The Lower East Side (of New York City) is where I was helped. I wanted to give back to the community that gave me life," says Tiffany, who is bidding farewell to BFL this month.  "It took six months  back in 2004 to get the shift supervisor job I wanted. I didn't give up until they hired me. Cathy Gormley (program director, in photo above center with Paul Feuerstein and Tiffany) was the first one I met."
After her stint as a Transitional Housing program shift supervisor, Tiffany moved onto working with the program's housing team.  The new position allowed her to channel her passion and support people with disabilities  to find a safe permanent home.
"Through my career at BFL I've placed 271 people in their own homes," says Tiffany. "In 2009 I placed 51 from the Transitional Housing program. That was the year I won the Barbara Kleinman award (which honors exceptional case workers). I was so proud because all of my co-workers voted for me to win that."
Referring to Barrier Free Living as her "family" Tiffany has a host of great memories from her years of service, but one in particular stands out.
"They couldn't find a supervisor to cover the New Year's eve shift at Transitional Housing. I volunteered. I got all the residents together and we threw a party in the dining room. Decorations. Pizza. We did the Soul Train line. They came down 30 minutes before midnight," recalls Tiffany. "I didn't want the residents to feel they weren't home. They are people too. Just because they are in a shelter doesn't mean you can't celebrate."
After that first event, Tiffany volunteered to work the New Year's eve shift every year until the program closed in 2018.
She continued to work as a housing case manager and specialist for the agency, at Barrier Free Living's Freedom House domestic violence shelter and finally at the Secret Garden domestic violence program this past year.
After 16 years of service, Tiffany is moving to St. Thomas, Virgin Islands where she plans to "plant food, have a coconut tree, read a book and be more at one with myself."
Tiffany speaks fondly of Barrier Free Living, stating that she wouldn't be where she is today without the support and encouragement of her team members, in particular, BFL CEO/Founder Paul Feuerstein.
"If it wasn't for Paul I wouldn't be here. He saw something in me that I didn't see in myself," she says.  "I love Barrier Free Living. The BFL family prepared me for this next step in my life. I'm ready."