Taste of Hope Event Inspires & Empowers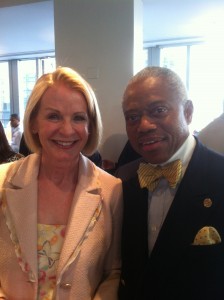 On Thursday, May 16th the HOPE Program hosted its second annual A Taste of HOPE event, a celebration of tastings, toasts and transformations at Steelcase in Manhattan.
Barrier Free Living's HR/Organizational Development Team attended, joining a packed crowd at the stunning Steelcase venue overlooking Columbus Circle. Guests included the founder of HOPE Deborah Antoine, (pictured with Dr. Clarel Antoine).
Taste of Hope featured a host of award-winning partners, including: Inside Park at St. Bart's, Murray's Cheese, Neuman's Kitchen, Chelsea Market Baskets, Jimmy's 43 and many others.
HOPE empowers New Yorkers living in poverty to achieve economic self-sufficiency through employment and advancement. Our innovative programs and individualized services help those with the deepest barriers connect with the workforce with results among the strongest in the industry.