Three Jewels Brings Yoga To Barrier Free Living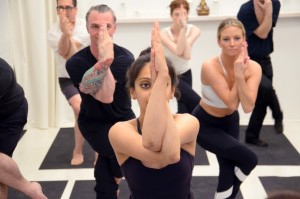 It was during a particularly rough period of her life that Jeanine Cahill Jackson first connected to the healing practice of yoga.
An attorney by trade, Jeanine found comfort in the ancient practice, and eventually decided to study. Today, she is Director of the Outreach Department at Three Jewels, a New York City based center offering yoga and meditation. (Read Jeanine's bio* and view her class welcome video below.)
This month, Three Jewels partnered with Barrier Free Living (BFL), offering virtual yoga and mediation classes to the survivors of domestic violence with disabilities at BFL's programs, as well as to all agency staff.
Jeanine is one of several instructors from Three Jewels volunteering at BFL, and says she finds great joy in helping yoga find other people in "the way it found me."
She notes that Westernized depictions of yoga – Modelesque figures in yoga pants – can feel alienating to the everyday person. There is in fact no athletic prerequisite to doing yoga. Three Jewels "digs deep" into the authentic and grounded roots. The key is to tune into one's own body, creating a positive relationship with self.
Classes begin with a discussion with the participants. Being able to ask participants about where they are at with their body, allows the teachers to customize the experience.
Three Jewel classes at Barrier Free Living are available in both English and Spanish.
Learn more about Three Jewels.
View the welcome video:
*Jeannine is the Director of the Outreach Department at Three Jewels where she creates and teaches yoga and meditation to communities all over NYC. Jeannine has graduated numerous teacher training including a 200 hr yoga teacher training at Three Jewels, a 300 hr yoga teacher training with Indra Yoga Institute and a 200 hr meditation teacher training with Three Jewels. Jeannine is also passionate about Buddhist philosophy. When she is not teaching, she is working at a Supervising Attorney in Housing at The Legal Aid Society, Bronx Neighborhood Office, preventing evictions of Bronx tenants and helping to create stability and safety in their lives. Jeannine loves to share the practices of yoga and meditation with others to help them through difficult times, build a positive relationship with themselves and to reach their highest potential. Jeannine's teaching style is to make each class accessible for every student and she tailors each offering to the needs, experience and abilities of the students. Jeannine uses teaching these practices as a way to share compassion and to care for others and help them do the same.  Her classes are offered in both English and Spanish. Favorite Quotes: "I want to live in a world where harm is not systemic, where love organizes society where the earth is respected, and where life is valued above all else." ~Yung Pueblo
Today's Contributor:
With experience as a doula and and a teacher of belly dancing, Karisma's love for working and writing about people in complex and creative situations led her to seek out a volunteer opportunity with the Barrier Free Living Communication Department. This is her first blog story.